Articles
Bitcoin Price Forecast Finds Support At $24,000 | Arabic Bitcoin | Bitcoin news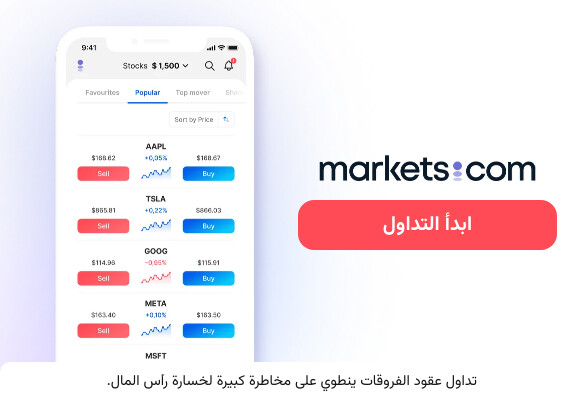 Bitcoin price forecast finds support at $24,000
Bitcoin Price Forecast finds support at $24,000, where it is witnessing a slight decline from the previous day due to concerns about market liquidity.
Similarly, Ethereum has seen a 3% decline over the past 24 hours and is currently trading at $1,600.
Let's examine the #Bitcoin options market with the current #BTC price at $24,500 and see what market makers do when it shoots up to $34,341

Or drops to $20k 👀

👇#GEX @kingfisher_btc pic.twitter.com/PNZoXQ7l02

— Onchain Edge (@onchain_edge) March 16, 2023
The cryptocurrency market has recently seen some ups and downs, as the two most used cryptocurrencies, Bitcoin and Ethereum, are facing a downturn.
Good morning everyone! ☀️JPMorgan predicts that the Federal Reserve's emergency loan program could inject $2 trillion into the US banking system, potentially providing a boost to the crypto market. #crypto #bitcoin #blockchain #cryptonews #FederalReserve #EconomicStimulus pic.twitter.com/r4Glx6QK5d

– Callistemon (@Callistemon25) March 16, 2023
In addition, all other popular cryptocurrencies such as Dogecoin, Solana, Ripple, and Litecoin have lost ground.
However, the declines were driven by persistent concerns about Credit Suisse, a bank in Europe facing challenges.
Investors are concerned that this could lead to a banking crisis, which could affect bitcoin prices in the short term.
Bitcoin drops to $24,000 as the cryptocurrency market faces a bearish stance amid the signature bank closing




The Bitcoin price has seen a huge drop, and the cryptocurrency market in general has been bearish lately.
Besides the decline in the value of Bitcoin, there has been some news about the closure of Signature Bank.
Some investors were worried that the shutdown could be related to the cryptocurrency, which could further affect the market. However, the New York Department of Financial Services (NYDFS) clarified that the shutdown is not related to cryptocurrency.
The New York Department of Financial Services (NYDFS) reassured investors that the recent closure of the signature bank had nothing to do with any cryptocurrency concerns.
However, the cryptocurrency market has been struggling, as the value of Bitcoin has seen a significant drop. Investors are watching the situation closely, but the market appears to be facing challenges in the short term.
US producer price index and economic uncertainty weigh in on Bitcoin
Recent US PPI data was positive, but investors remain cautious due to concerns about global banks and the general state of the economy.
Despite a slight increase in value, Bitcoin and other cryptocurrencies have seen a price decline.
This downward trend can be attributed to several factors, including ongoing problems with global banks, particularly concerns surrounding Credit Suisse, which has raised concerns about market liquidity.
As a result, some investors became uncomfortable and sold off their holdings, driving down the value of cryptocurrencies like bitcoin.
The closure of signature bank was not related to the bank's crypto industry ties nydfs denies signature was closed over crypto though signature worked extensively with crypto firms, a representative has denied that the decision to shut down

– Misha Jacobo (@MishaJacobo) March 15, 2023
Moreover, the macroeconomic environment remains sluggish, and economic uncertainty and banking concerns have created a cautious trading atmosphere.
As a result, investors are becoming more careful about where they invest their money, which contributes to the bearish trend of Bitcoin and other cryptocurrencies.
Bitcoin price forecast finds support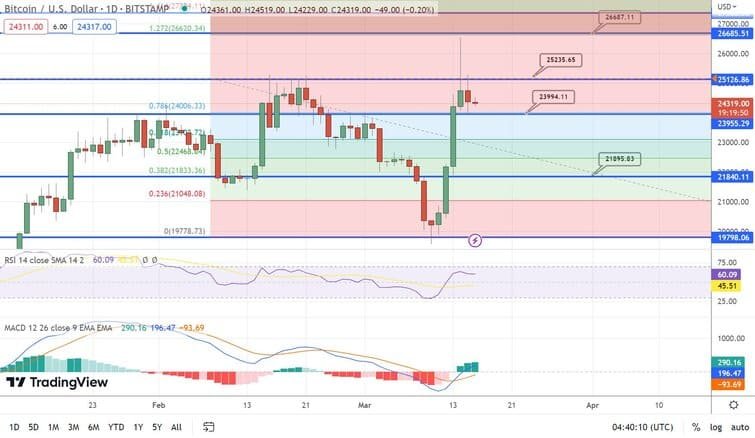 After a short consolidation at $26,500, bitcoin price witnessed a sharp decline.
As a result, it has been in a negative trend in the short term since it broke below the $25,000 and $25,500 support levels.
If the price can close above $25,200, it could lead to a fresh uptrend above $26,000, with a critical resistance level at $26,500.
If $26,000 is broken, $27,500 may not be far behind.
However, Bitcoin could see another decline if it cannot breach the $25,200 resistance.
For now, $24,000 offers near-term support on the downside, with the $23,500 region and the 100 hourly simple moving average providing more significant additional support not far behind.
As the price drops below $22,600, the selling pressure is likely to increase. If the losses continue, the price could drop below $22,000.
Open a CFD Demo Account!